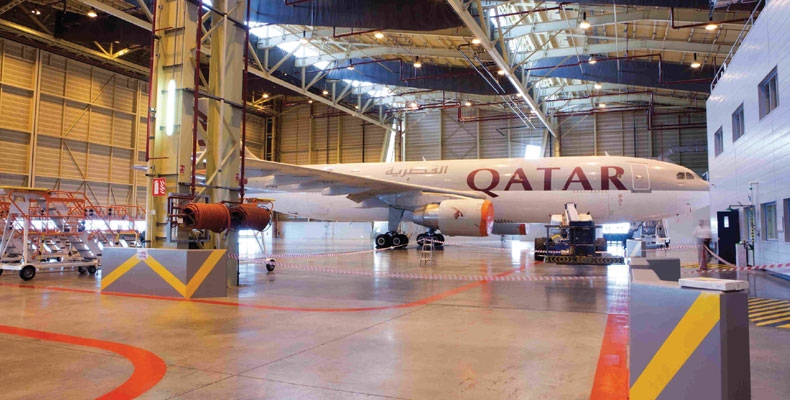 Futuristic superstructures, shimmering glass facades and fuzzier lines between indoor and outdoor spaces – airports in the Middle East are more of an experience than just a transit hub. And taking care of these fantastic facilities can be a challenge and takes highly skilled professionals working day in and day out for it to function smoothly without any problems. 'FM today' takes a look at the challenges the facility management face in the aviation sector and what it takes to look after one of the biggest facility in the region. In the aviation sector, the term FM seems to vary in meaning and interpretation. For example to some it is used to cover just 'soft services', for others it covers the normal soft services and hard services but also perhaps the operation and maintenance of a baggage handling system.
Challenging Environment
Being one of the largest transit destinations in the world, Dubai Airport is one of the busiest international airports in the world with over 200,000 people passing through it every day. With the ongoing expansions and refurbishment at various terminals, one can imagine the mammoth task the cleaning and maintenance teams have to undertake in order to maintain the facility. Going by the 2020 airport strategic plan and to boost airport competitiveness with positive changes, Dubai International has numerous projects to expand the terminals and enhance the services at these facilities. This means more FM requirements and the fact that it's a 24-hour operation only adds to the challenge. With so much construction work and restructuring going on, some of the key challenges faced at Dubai International are to keep the customer service and satisfaction levels up. Plus, there are diversions, areas that are barricaded, dust and other inconveniences such as workers moving around, materials being transported, etc. Sometimes they have to even limit access to certain counters and washrooms and it gets very crowded.
Catering close to 30 million passengers a year is Hamad International Airport (HIA). Offering world-class facilities, the FM team at the airport looks after the runways and taxiways, passenger terminal complex, cargo facility, four central utility plants, midfield facilities, Car Parks and roads and grounds. "Some of our key focus points are safety, asset integrity, reliability, contract management, asset management, customer and stakeholder engagement and co-ordination," says Badr Al Meer, COO, Hamad International Airport.
Badr Al Meer,
COO, Hamad International Airport
Some of the challenges they faced was during the handover of airport facilities after its construction by the Project Management team in May 2014. "To ensure the handover process took place seamlessly, a Handover and Defects Committee was established comprising of the Project Manager and HIA FM. The receipt of drawings, spares, O & M Manuals, training and defect close out for each construction package was also meticulously tracked. Additionally, an FM handover team was embedded in the airport prior to its opening to drive handover from an FM perspective," says Badr Al Meer.
Another one of HIA FM's undertakings was the mobilisation of 10 FM Contractors consisting of approximately 6,000 employees. To ensure efficient management of these contracts, experienced FM and airport professionals were recruited as FM Managers to oversee each contract. "The mobilisation of each contract was jointly tracked by HIA FM and the contractor, and regularly reviewed by the Senior FM team. Risk and contingency plans were then developed and implemented in various areas until full mobilisation was complete," added Badr Al Meer. Having been delivering their services to the aviation industry Cofely Besix Facility Management largely manage the mechanical, electrical and plumbing and civil maintenance including 11kV distribution, heat exchangers and chillers for perishables. They are also responsible for the fan coil units and low voltage distribution for a total of 850+ assets. While they do face challenges they have learnt to overcome them as well.

Romano Fionda,
Business Development Manager,
Cofely Besix Airports and Logistics Services
A key challenge they faced was to assist the client with the project snag process to be completed in a short term for the 500 m long building. "We appointed a team of in-house snag professionals that scanned the building and its assets filling up standardised Cofely Besix Facility Management templates. This allows the admin team to work faster and allows the client to filter out by area/date/ trade the type of snag. Bringing in materials to the airport zone can be challenging. To overcome this, a logistical process was reviewed and amended to have the exact quantity of materials and consumables on-board. This was done through an FMEA analysis of the critical and non-essential assets," explains Romano Fionda, Business Development Manager of Cofely Besix Airports and Logistics Services.
Best Practices
From an FM perspective, and due to the criticality of the various airport systems, airports are very focused on implementing Best Practices wherever possible. A key component in ensuring smooth functioning in a challenging environment like the airport is to take a smart approach and keep the staff motivated at all times.
Consistency and robustness of maintenance and performance data are vital for HIA. "To ensure consistency, we have implemented a Computerised Maintenance Management System (CMMS) across the site as the single source for all asset information. The CMMS project is managed by HIA FM experts with the support of HIA's IT department and our contractors' subject matter experts. The ownership of CMMS implementation has been handled in collaboration with FM contractors, along with the completion of asset surveys, and taxonomy, which was designed and completed solely by an in-house team," says Badr Al Meer.
He goes on to add, that safety is paramount, which is demonstrated by the implementation of the HIA Safety Management System. They have significantly invested in the training of staff and have produced bilingual training videos, and have also documented Standard Operating Procedures in place. Safety is also assured by the Control of Contractors team which conducts spot audits across the site and conduct continuous supervision of work.
"Again due to the criticality of an airport, it is generally found that the customer is more of an 'intelligent customer', than perhaps maybe the norm elsewhere," says Romano and adds, "Condition-based monitoring for mechanical and electrical systems is becoming more expected by the airport customer rather than the 'value-added' service as was in the past.
More recently, and becoming more and more apparent, is the focus on energy consumption and utilising best practices to help reduce the energy consumption of an airport. This is more widely used in Europe but is starting to appear in the Middle East as is the focus on recycling and waste management. From a soft services point of view, customers are now raising the bar and asking for service providers to be BICSc accredited or equivalent."
Smart Airports
Airports are expected to offer an even faster, smoother and better-connected and, therefore, less-stressful journey through the airport to passengers whose number globally will double to 6.6 billion by 2020. Smart technologies are helping in the transformation of airports by increasing their processing and operational capabilities. Smart Technology is also putting more control of the travel experience into the hands of passengers. Smart airports are set to revolutionize the passenger experience as airports invest in Beacon, Near Field Technology (NFC), mobile and wearable technologies to ease the journey through the airport, which is known to be the most stressful part of any air domestic or international journey.
Airports need to prepare themselves for the connected traveller, according to the 2014 SITA/ACI Global Airport Trend Survey. The majority of total airport investments of $6.8 billion will be for IT. Thirty-three percent will implement beacon technology, 84 per cent in mobile applications, 16 per cent in wearable technologies and 49 per cent in Near Field Technology (NFC) by 2020.
According to the survey, improving passenger experience remains the single most important driving force for IT investment for 68 per cent of the airports. Over half of airports have major programmes related to self-service and passenger mobile apps.
In addition, two-thirds of airports have major infrastructure programmes to deploy common-use systems for passengers, such as kiosks and implementation of Wi-Fi, which is focused towards enhancing passenger satisfaction.
By 2017, SITA reports that 86 percent of airports expect the majority of their passengers to use self-service check-in, and by 2020, 80 percent of global passengers will have access to a complete suite of self-service options from arriving at the airport to clearing immigration at the final destination. More investments are being made in check-in technologies, flight information displays and access control.
The International Air Transport Association (IATA), the global trade body for airlines, says the mushrooming mix of devices, applications, networks and services will open up a whole new world for systems integration in the airports environment. A Markets and Markets study says the global market for smart airports will reach US$13.5 billion by 2020, up from US$9.7 billion in 2014. The market is expected to see 5.61 percent CAGR to 2020.
The Arabian Gulf airports lead in the region in embracing technology solutions with open arms to improve passenger experiences, reduce the burden on customer services, and most importantly, increase revenues.
As part of the initiatives to turn Dubai International Airport into a Next-Gen travel hub, smart gates equipped with technology such as automatic identification system, facial imprint and automatic iris scan have been deployed. UAE airports are going in for the phased implementation of Advance Passenger Information System (APIS).
"Airports need to turn smart to ensure that their facilities are able to cope with evolving needs and expectations of passengers. Having smart technologies in place is integral to delivering a hassle-free passenger experience that can put an airport ahead of its competitors. Changes in the ways we travel are coming at us faster each day. New technology promises to make travel even easier, more efficient and safer. Some changes are right around the corner and others are decades away," says Daniyal Qureshi, Group Exhibition Director at Reed Exhibitions Middle East, the organizers of Airport Show due to take place in Dubai in May.
Room for improvement
The FM industry in the Middle East is still in a developing stage and there are more and more service providers appearing in the market. The airports industry in the Middle East is also in a developing stage. However, there is always space for improvement.
According to Badr Al Meer, it is important to recruit skilled staff. "Since airports are regulated environments with strict security rules and procedures, it is imperative to recruit experienced, skilled airport staff in all roles from cleaners through engineers to Senior Managers. Suppliers to FM organisations are an integral part of the customer service delivery chain. Hence, the supply chain, which supports the FM aviation industry, must be present and responsive."
Romano elaborates by saying that the aviation sector is quite different in this respect, as airports are focused on the passenger experience. "From entering the airport to leaving the airport, most passengers need to spend on average at least 2 hours there, so if it is too cold or too hot, for example, this will always be remembered by passengers. From experience, in the aviation sector the term FM seems to vary in meaning and interpretation. To this end, I would say that FM in the aviation sector is also fairly immature and needs time to develop, and standardise, and the industry needs to be properly understood by service providers," he concludes.